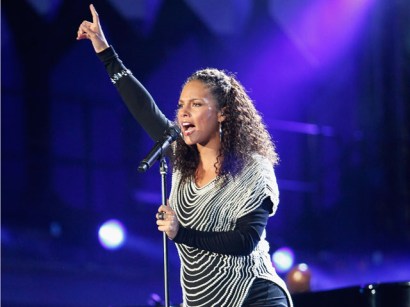 Don't expect any Facebook or Twitter updates from Lady Gaga and Alicia Keys on Tuesday. They're taking a break from social networking for an important cause.
The two are among the many celebrities that log off from social media platforms on World AIDS Day as part of the Digital Life Sacrifice campaign, The Associated Press reported. The campaign will benefit Keys' charitable organization, Keep a Child Alive, which helps families impacted by HIV/AIDS.
Among the other celebs who are taking part in the campaign are Ryan Seacrest, Kim Kardashian, Serena Williams and Jenifer Hudson. Their "last tweet and testament" videos were shot and will be used in advertisements to symbolize what the initiative characterizes as digital deaths.
The celebs will log back into their social media accounts when Keep a Child Alive achieves its $1 million fundraising goal. The charity was started almost a decade ago with Keys serving as its first Global Ambassador.
In Conclusion... This is great to see. Of course you won't find this on the front of any newspaper or on any blog headlines because there is no drama involved.Kudos for those celebs to take time out of their busy schedule to not log on to social sites for a very worthy cause(i don't know if I'm being sarcastic or what)