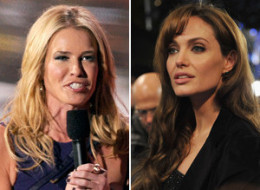 Chelsea Handler went off on Angelina Jolie during a standup performance in New Jersey over the weekend (via Hollywoodlife.com), calling the actress a f**king homewrecker and worse.
"She can rescue as many babies from as many countries as she wants to," Chelsea said. "I don't f**king believe you ... she gives interviews, 'I don't have a lot of female friends.' Cause you're a f**king c**t ... you're a f**king b***h."
Chelsea is good friends with Jennifer Aniston.